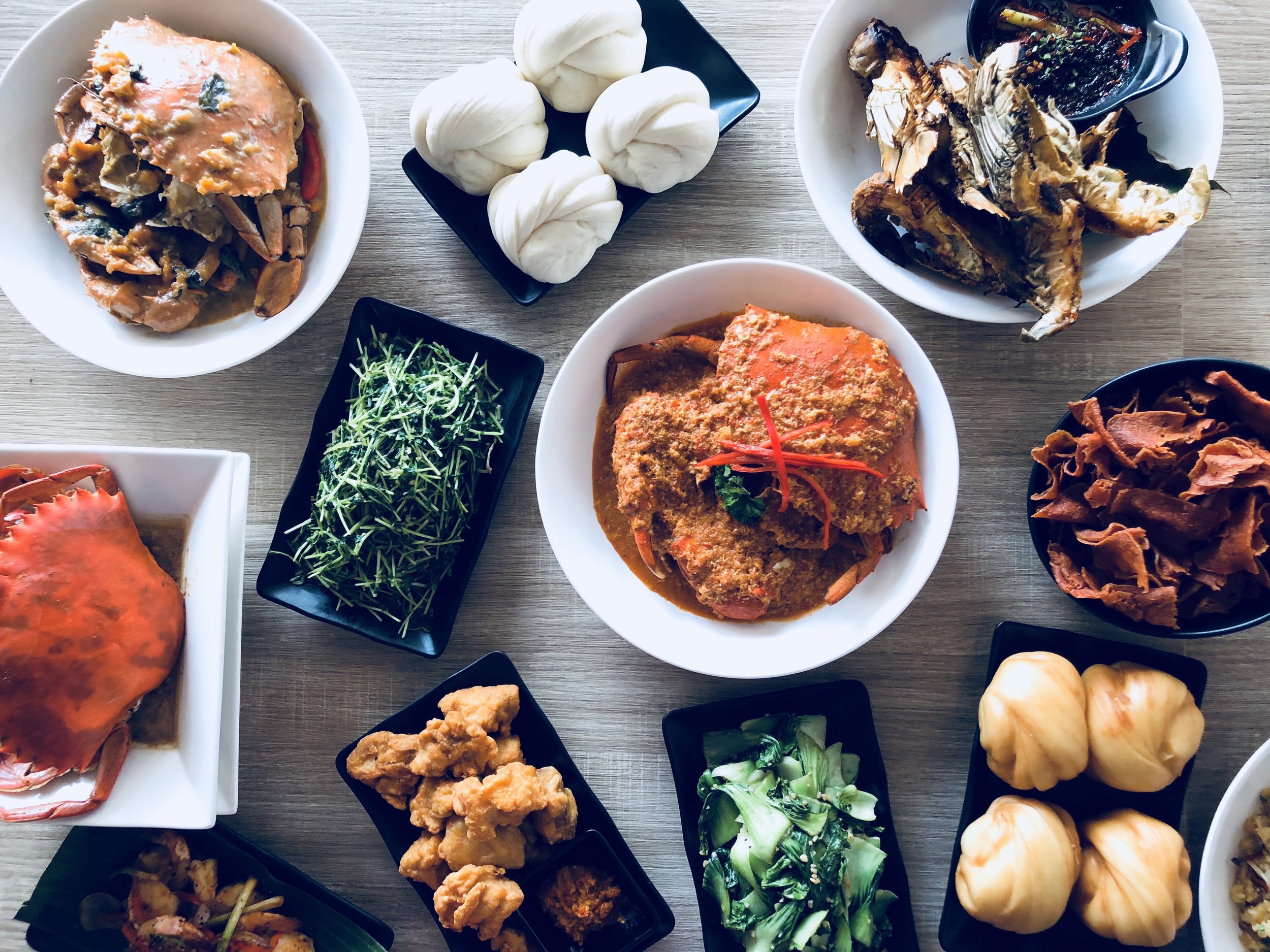 "THE ISLAND'S BEST CHILLI CRAB"
~ LONELY PLANET
We've always wanted to create a great restaurant that reminded us of Mom's place: Great local crab delicacies lovingly made with fresh ingredients and no flavour enhancers added!.
Momma Kong's opened our doors in January 2013 and is located on the outskirts of Chinatown. Conveniently located between the Central Business District and Orchard Road (Singapore's main shopping belt), we have been serving great interpretations of classic crab dishes in a great family-friendly environment that's a great place for a relaxing after work beer, a dinner catch up with friends and family, and a pre-party destination to get your night started.
Touted by Lonely Planet as "a tiny Chinatown marvel peddling the island's best Chilli Crab", coming to Momma Kong's you'll get the full experience - great food, awesome service, a choice selection of alcoholic beverages and one more thing, the music's great too!
Phone
(65) 6225 2722
Location
34 Mosque Street
Singapore 059512
Hours
Mon - Fri: 11am–3pm, 5pm–11pm
Sat + Sun: 11am–11pm
Last Orders
Food: 10:00pm Drinks: 10:30pm
ALL PRICES LISTED ARE IN SINGAPORE DOLLARS AND ARE SUBJECT TO A 10% SERVICE CHARGE AND PREVAILING GOVERNMENT TAXES
DO NOTE THAT OUR RESTAURANT HAS BOTH INDOOR AND OUTDOOR SEATING.
Reservations are by default assigned to the indoor area on a first-come-first-served basis. If full, reservations will automatically assigned to the outdoor area.So do remember to choose your preferred area when you book!
If you're having difficulty placing a reservation, please call us at 6225-CRAB(2722) or email us at enquiries@mommakongs.com and we'll get back to you soonest!
*Please note that we are only able to hold seats for 15 minutes from the time of your reservation and incomplete reservations within this grace period may be released to walk-in guests.
#CRABONDEMAND
Fancy having the "island's best chilli crab" delivered straight to your door? Well you most definitely can! Island-wide delivery is available via our partner Oddle or zonally via the GrabFood and FoodPanda apps so you can prepare a feast at home or a quick crab fix if you're stuck late in the office!
GUESS WHAT?! WE'RE ON INSTAGRAM!
A picture paints a thousand words? We couldn't agree more! Follow us on Instagram @Momma_Kongs or post your fantastic photos and tag 'em with #mommakongs !
FIND US ON FACEBOOK
We're always looking for ways to make your visits to Momma Kong's better and we're always excited to hear from our guests from around the world about their visits to the restaurant and if they have any feedback or comments.
Like us on Facebook to keep up to date with the latest promotions and happenings over at Momma Kong's!
HOW TO GET HERE
MOMMA KONG'S . 34 Mosque Street . Singapore 059512 . T. 6225-2722
BY CAR
Head down South Bridge Road and drive past Upper Cross Street and make the first right turn into Mosque Street and we're just about 50 metres further down the road on the right.
PARKING SPACES
Mosque Street | Street-side parking
Club Street | Street-side parking & Multi-Storey Car Park
Hong Lim Complex | Multi-Storey Car Park
BY TRAIN
North-East Line NE4 | Take exit E at Chinatown Point and cross over to Mosque Street via New Bridge Road . Take exit F at Hong Lim Complex and cross over to Mosque Street via South Bridge Road
BY BUS
Bus Stop B05131 @ Upper Cross Street | Walk toward South Bridge Road, turn right and Mosque Street will be the next street on the right
Bus Stop B14179 @ Eu Tong Sen Street | Cross the main road and walk along New Bridge Road, turn left at Mosque Street
Bus Stop B04329 @ New Bridge Road | Walk along New Bridge Road and cross Upper Cross Street and walk toward Mosque Street.
GET IN TOUCH
Have a general enquiry or you might just wanna say hi? Fill in the form and we'll get back as soon as we're done herding the crab!